Weekend Roundup: From Presidio to El Nino
December 6, 2010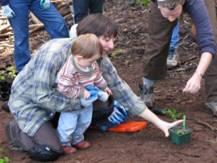 A weekend of dazzling indoor performance and drizzly outdoor community engagement. Fun.

1. Volunteer planting day in The Presidio: Stumbled across this wonderful event led by the Presidio Trust while out on a random walk in the rain which up to that point had involved walking all over Andy Goldsworthy's newly installed eucalyptus tree installation, Wood Line, near the Presidio Gate (the wooden beams were slippery, but I trod the entire thing without once falling off.) Joined about 60 other volunteers (most of whom had planned to be there unlike me) in planting an area of rich, soft soil with thousands of new plants from the park's nursery. The Trust provided breakfast and lunch (though I didn't stay for the latter), all the necessary wet weather gear and tools, as well as special tours of local historical and archeological interest points. A park historian was on hand to share information. I plan on volunteering again as soon as I can. It's a great way to learn about local history and culture, make new friends and do some good for the environment and community.

2. El Nino at San Francisco Symphony: My head is still full of the beautiful, eerie final scene from John Adams' oratorio, which retells the nativity story with a Latin slant. The composer was on the podium, waving his baton in a jerkily energetic manner that belied the onrushing, seamless warmth of his music. Soprano Dawn Upshaw and bass-baritone Jonathan Lemalu looked like a couple of truck drivers in the shapeless contemporary attire that they had been put in for their roles as Mary and Joseph. Lemalu sounded solid, but Upshaw's voice seemed breathy at times. Countertenors Daniel Bubeck, Brian Cummings and Steven Rickards, dressed in modish white outfits, made for a dazzling trio of angels (collectively playing Gabriel) with their curlicue lines and gliding way of walking across the space during the semi-staged performance. The San Francisco Symphony Chorus spun a blazon of sound and the San Francisco Girls' Chorus added an unbearable sweetness to the aforementioned final scene, creating a memorable tableau around the central characters. Adams' instrumental music usually inspires me, but I've been generally less taken with his writing for voices thus far. Experiencing El Nino live has given me a new appreciation for the composer's understanding of the vocal arts.

3. Elza Van Den Heever recital for San Francisco Performances at The Conservatory of Music: Here's a singer I'm going to keep a close eye on. The South African soprano has been kicking about The Bay Area lately with gigs at the SF Symphony and Salle Pianos to name but two. A friend of mine who saw her performance at Salle the other day said she made him cry. It's easy to see why: Van Den Heever embodies the emotion of her music so dramatically that it would take a heart of stone not to feel viscerally moved while she sings. Van Den Heever's heart clearly lies with Romantic music. Her renditions of Schumann lieder were particularly affecting as were her explorations of Strauss, thanks to a warmth of tone, perfect diction and strong emotional delivery. I wouldn't travel far to hear Van Den Heever's Baroque interpretations though.