Measha
November 11, 2010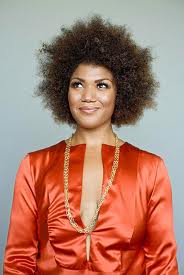 Soprano Measha Brueggergosman performed her recital debut in San Francisco last night under the auspices of San Francisco Performances at the Herbst Theatre.

The audience was on the small side: Though the singer is a big name in her native Canada, she's not so well known in the Bay Area right now. But I suspect that every person who heard her last night went home clamoring to hear her lustrous voice again.

Brueggergosman's voice takes a little adjusting to. It doesn't have a uniform, bell-like quality. It has many many colors, from voluptuous, velvety tones to glittering, on-the-edge-of-breathy edges. She's also a performer who sings with her entire body. She bends her legs, moves her trunk and emotes with every ounce of her being.

There was something about the quality of last night's recital with pianist Justus Zeyen, which featured songs by Mozart, Schubert, Duparc, Turina, Chopin, Strauss and Berg, that had the air of a jazz rather than a classical performance. It's partly to do with the way that Brueggergosman sings -- that breathy edge to her voice is very jazz -- and partly to do with the way she stands (very close to the piano, with her hand resting on it) and sways. This gave the classical works she performed a slightly different tint which made us listen in a new way.