Tragic Bust, I mean, Magic Bus
October 26, 2010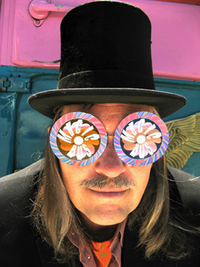 I wish I had enjoyed my tour on Saturday afternoon on The Magic Bus more than I did. But I didn't. The experience left me feeling deflated and slightly nauseous.

"Magic Bus?" said the friend who joined me for the 90 minute ride through time and space back to 1960s San Francisco organized by the normally innovative site-specific theater company, Antenna Theater. "Tragic Bust, more like."

This is perhaps overstating things a bit. The conceit is a marvelous one, at least. What better way to explore a time in this country's history when groups of flower children traveled around the land on brightly-painted buses than by hopping on a bus tricked out to resemble the type of vehicle that the hippies rode in? And knowing whether you were "on the bus" or "off the bus" in the metaphorical sense defined you as an American in some ways during the era, so watching the story unfold while traveling on a bus makes sense.

But despite the strength of the core idea, The Magic Bus fails in two ways: 1) It doesn't go beyond presenting stock notions of the 1960s that people have seen and heard millions of times before such as footage of the Beatles singing "All You Need is Love", the murder of President Kennedy and hippies lounging on the roofs of buses, and 2) Because the entire ride through such touristy neighborhoods such as North Beach, Chinatown, Golden Gate Park and The Haight happens with video projection screens covering the windows most of the time, you feel like you could be seeing the presentation just as easily in a regular movie theater or at home on TV. If you did, you'd certainly feel less sick.

It wasn't all bad: I liked the fact that many of the people on the bus sang along with the songs. Handing out candy and flowers for us to wear in our hair was a nice touch too.

But by the time we returned to Union Square, I was only too happy to get off the damn bus.