Guilty Pleasure
October 22, 2010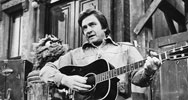 It was a tough decision to make -- and stick to. The Giants were heating up AT&T Park and inching ever closer to victory (for the first time, I am told, in years); The Alonzo King Lines Ballet was packing them in for its fall season at Yerba Buena Center for the Arts. There were all manner of rehearsals, performances and late-night art exhibitions I could have been at last night.

And what did this culture critic do? I went to see a documentary about singing puppets.

Sing! The Music of Sesame Street is a sometimes touching and often hilarious romp through 40 years of songs from the famous children's TV show. The little movie theater at YBCA was only half full of people like me in their 30s and 40s. But I got a lot out of the experience beyond the obvious nostalgia factor.

The film, which is part of a month-long movie tribute at YBCA to Muppet creator Jim Henson, consists of footage from the series interspersed with occasional title cards to denote how different songs have been organized by the filmmakers. It's ridiculously simple in scope. There is no narration and no "behind-the-scenes" footage. All we get is 82 minutes of musical numbers performed by a mixture of marionettes and humans. I would have enjoyed more substance to the film beyond the songs, but I also enjoyed the way in which the documentary lets the music really speak for itself.

What I primarily got from the film was a remembrance of how much I learned from these songs as a child. I remembered learning to count with The Count and the difference between 'around', 'over', 'under' and 'through' from Grover running around a pair of swinging saloon doors. I'm also certain that I learned how to distinguish between different ideas and objects in part by singing along with the ditty "one of these things is not like the other..." In short, this was a trip into a corner of my early educational process, a journey into the roots of my cognitive process, if you will.

The simple melodies are very singable. And the messages are often educational without being boring and didactic. Listening to these songs with grown-up eyes, I see how funny and clever they are. In a song that Kermit sings from a perch in the middle of a pristine lake, for instance, a chorus of bug-eyed, orange fish join the frog in singing about the pleasures of greenery, clean air and quietude. As they're singing their bucolic song, a noisy family shows up and starts to throw trash around and drown out the frog and fishes' bucolic song with loud music from a ghetto blaster. Then a speedboat roars past, blocking our view of Kermit and almost killing the fish. As such, the song provides a witty and hard-hitting way of explaining the importance of environmental care. Adults and children alike learn quickly from this and have fun in the process.

In short, despite my feelings of guilt about sitting in a cinema watching footage of Oscar the Grouch singing a duet about unpleasant people with Johnny Cash, I don't regret last night's decision at all.