Apology to Cal Shakes
October 5, 2010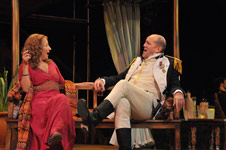 A few months ago, following a trip out to Orinda to see G B Shaw's Mrs Warren's Profession at the California Shakespeare Theatre's Bruns Amphitheatre, I wrote a snarky blogpost about how I felt the location's souped-up, shiny new ticket office, concession stand, toilets and landscaping spoiled the rustic feel of the lovely outdoor venue.

I now owe California Shakespeare Theatre an apology for being so rude about its face-lift.

What I failed to see on that visit to the theatre was that the upgrades aren't merely all about making cosmetic changes to please the subscribers.

On a trip over this past weekend to see Jonathan Moscone's production of Much Ado About Nothing (which is excellent by the way owing in large part to the spunky tug-of-love between Andy Murray's Benedick and Dominique Lozano's Beatrice, though the decision to turn Don John into a campy clown is an odd one) I was given a short tour of the backstage renovations at the Bruns Amphitheatre by the organization's managing director, Susie Falk.

Susie took me to areas of the property which are hidden from audience members' view. It was only when I glimpsed the contented cast members lounging on comfy sofas in a clean, dry, warm and well-lit green room, and costume staff happily applying straightening irons to wigs in an airy costume space, that I realized how much of an improvement to the lives of Cal Shakes' actors and staff the upgrades make.

In the past, the behind the scenes areas were dark, damp, cramped and cold. The production team members suffered unduly for their art.

The theatre still has some way to go in its improvement plans and I wish them every success in raising the necessary funds to create a new lighting and sound booth which complies to code and various other key projects.