The Puppet Master
September 23, 2010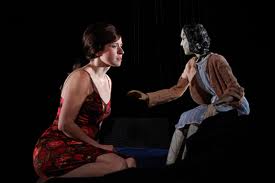 A great playwright is like a puppet master: He or she subtly pulls the strings of character and action to make life seem larger than it is in reality. Ideally, he or she resides in the shadows and the puppet/play itself takes center stage.

Compulsion by Rinne Groff, which is currently receiving its world premiere at the Berkeley Repertory Theatre in a production starring Mandy Patinkin as an obsessed and egomaniacal writer and directed by Oskar Eustis of The Public Theatre, features puppets created by Matt Acheson and delicately manipulated by Emily DeCola, Daniel Fay and Eric Wright. It's a chewy, sinuous, contemplative piece about the tension between the self and the community, personal and social politics and the commercialism that often gets caught up even the most heartfelt of artistic endeavors. But the dramatist, though ambitious, gets her dramaturgical strings tangled.

The various strands of Groff's real-life historical content (to do with Anne Frank, the circumstances surrounding the adaptation of her famous Diary, the life of the writer Meyer Levin and the Leopold and Loeb murder case) all feel jumbled and like they should exist in separate plays, rather than feeling part of one work. The puppet metaphor doesn't feel well-integrated into the storytelling, the material is repetitive at times (there's only so much listening to a writer rant about his right to tell Anne Frank's story as a Jew that I can take) and I found that I didn't much care about the characters by the end of the play.

This is a shame as the acting from the three-strong cast, which features Hannah Cabell and Matte Osian alongside the excellently verkakte Patinkin, is sensitive and engrossing. There's a gorgeous fragility to the way in which the puppeteers manipulate their marionettes. And the pacing of the action by Eustis is mostly electric.

Yet I felt disappointed. The play, with its magical realism mixed with Arthur Miller-like naturalism reminds me of Paula Vogel's lovely puppet play The Long Christmas Ride Home. But it lacks the same authenticity and clever meshing of ideas.