Guidelines for Pitching the Bay Area Culture Section of the NY Times
September 20, 2010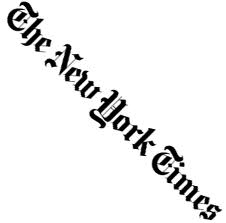 The culture column of the Bay Area section of the New York Times, which I write every two weeks, had been a bit of a moving target content-wise since I started the gig nearly a year ago. I'm often asked by arts organizations and independent PR people what kind of stories my editors and I are looking for on the culture front. Here are some pointers to help anyone who feels like pitching me:

1. The idea has to be arts-related. The mandate is broad -- I've written about everything from the Burning Man Festival's radio station to the San Francisco Ballet. But for some reason, my editors don't seem to want to me to cover books. Also, generally (though not always), they have me try to steer clear of topics that are related to culture but don't necessarily fall into the traditional "arts" categories e.g. dining, travel.

2. The idea must have a strong Bay Area focus. That is, it should not only mention upcoming events happening in the region, but also preferably point to local artists, organizations, trends happening around here etc.

3. The idea should have an interesting/new story to tell or insight to reveal on local culture. It's not enough that an event is coming up that may be of interest to readers. There has to be a compelling reason in addition to the happening that is worth talking about. I need to have a clear idea of why my readers should care about the particular topic in question.

4. The idea should preferably provide an opportunity to range beyond the scope of talking about one artist/event/organization and be something that is possible to contextualize and think of in terms of the broader cultural scene.

5. If possible (and this isn't always possible) there should be more than one event of its kind going on at around the same time or organization / artist to talk about within the same story. This helps to provide a greater sense of context and gives readers more than one thing to go and experience.

Last week's column about the Oakland Museum's new exhibition by Mark Dion is a good example of the kind of "ideal" Bay Area arts column for the NY Times. It has the local news peg, leverages not only event/organization but several in order to shed light on a current trend in museums, and even includes a bit of room for critical insight. You can read the piece here.