Friday, Saturday, Sunday
September 13, 2010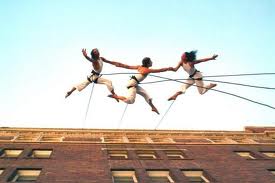 The weekend went by in a blur. Some highlights:

1. Watching Project Bandaloop's amazing aerial dancers swoop and glide off the side of a 100 foot tall building in Oakland in preparation for the company's upcoming world premiere. The piece, which involves six dancers and is choreographed by artistic director Amelia Rudolph, explores the relationship between the different sides of the self and an individual's relationship to others. It's appropriately called IdEgo.

2. Hitting opening night of the new Mark Dion exhibition at the Oakland Museum. It's called Marvelous Museum and it involves the interjection of strange and unusual curios from the depths of the museum's storage facility into different parts of the permanent exhibition spaces.

3. Chris Kuckenbaker's weird and wonderful solo show at the San Francisco Fringe Festival all about William Burroughs. Well, to be more accurate, the piece is about the performer's imaginary relationship with a Burroughs'-like character in his head. Part self-confessional, part homage to the great, madcap author, the piece avoids being too self-indulgent and is full of humor and dextrous switches between characters.

4. Singing all day at a retreat with the International Orange Chorale in Larkspur. The ensemble with which I sing is performing Milton Babbitt's Music for the Mass among other new and newish pieces.

5. Hitting Pandora karaoke bar in the Tenderloin. Having sung all day, a group of us continued carousing till the wee hours of the morning. We had a private room, which was probably just as well, as we sang songs from The Sound of Music not to mention the Rod Stewart number, "If you want my body and your think I'm sexy..."

6. Enjoying a Sunday morning "gospel brunch" at 1300 Fillmore. The wonderful soul group Future Perfect performed while we ate. Gospel brunches are tacky things really and the prices are elevated. But we have fun anyway. The bottomless pomegranate mimosas (or "pomosas" as the waiter called the sweet fizzy pink beverages) certainly helped.