Where Birds Go Off To Die
August 6, 2010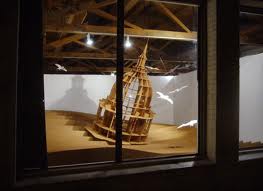 Taro Hattori's paper sculpture currently on display at the
SF Arts Commission's storefront installation gallery on Grove Street in Civic Center
, San Francisco, is one of the most eye-catching works of art that I've ever seen displayed at the small, walk-by space.
The sculpture, which is made made out of carefully hewn and folded brown cardboard and white paper, depicts a building not unlike City Hall across the street floating precariously -- or perhaps even sinking -- in a sea of cardboard waves while origami seagulls circle the cupola.
If you look at the sculpture during the day, you can see the real City Hall, standing regal and erect across the street, reflected in the gallery window. The juxtaposition of the building's reflection and its artistic relief is both beautiful and slightly disconcerting. The birds don't look like they're dying. And the cardboard building looks too buoyant to sink. But there's a dangerous, lurching list to the whole thing, which -- especially when viewed in relation to the real building -- makes you wonder about about the solidity of the future of a city like San Francisco.<br><br>Part of the SF Arts Commission's "Now and When" group show, Hattori's work is on display until September 4.