Throwback
August 10, 2010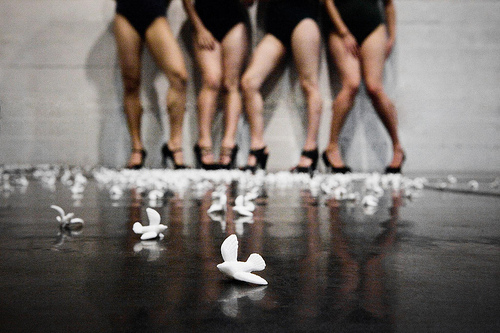 Do you ever feel like, culturally-speaking, you've been thrown back into another era? Depending on the experience in question, this can be a good or bad thing. Many great works of art owe their greatness to the fact that they make us feel like we've stepped into a different age from our own. But then there are those experiences that take you back in time unintentionally -- in other words, they're "old hat."

I unfortunately faced the latter of these symptoms at the weekend when I went to CounterPULSE, a black box venue in San Francisco, to see two dance-theatre works by the organization's artists in residence, Jesse Hewit/Strong Behavior and Laura Arrington. The choreographers seemed to be attempting to say something fresh and interesting about what it means to be a woman / the nature of female sexuality with their works. Hewit's description of his piece from his website describes it as: "a dance theater work that visually and kinetically considers the high art of performing feminine subjectivities within contemporary narratives." Arrington's work is summarized on the CounterPULSE site as following "a cast of four women as they sing, scream, and dance toward resolution while contemplating the violence of femininity." Well, there it is.

By the time I staggered out of CounterPULSE on Saturday evening, I felt like I had been sitting in a basement theatre in New York's East Village circa 1962 but without the atmosphere and helpful drugs. The transportation to a bygone era was not a good thing.

The two works -- Tell them that you saw me by Hewit and Hot Wings (a still from the work is pictured above) by Arrington had a great deal in common. But far from complementing each other in revealing ways, the pieces appeared very samey as viewed back to back. The both had all-female casts. They both included overtly sexual imagery -- in Hewit's piece, the cast members took it in turn to simulate different sexual positions while the others stood around in a semi-circle and made appreciative comments e.g. about the artistry of one performer's "doggy style" posture. Arrington's piece started with the four cast members parading around with their skimpy leotard-wearing asses in the air and culminated with one performer dancing naked with a model deer strapped to her head. And both pieces featured intolerable amounts ear-splitting, blood-curdling screaming.

I had never seen Hewit's work before, but had heard of its merit from a renowned local choreographer friend of mine, who even made a cameo in Hewit's piece. And Arrington's company has impressed me in the past. I very much enjoyed the humor and innovative movement that the choreographer brought to a quirky piece I saw at The Garage last year on the theme of pirates and being stranded at sea.

The CounterPULSE show would have seemed outre and perhaps even profound as performed 50 years ago. But today it feels like so many cliches.