SF Arts iPhone App
August 5, 2010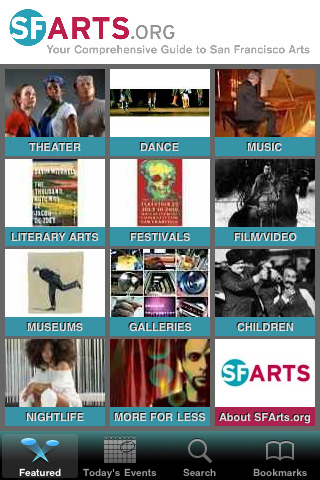 I just downloaded the new iPhone app for the SF Arts Guide, a web-based roundup of many arts events in the Bay Area organized under different headings such as "theatre", "dance" and "literary arts" by a bunch of pretty knowledgeable curators.

I am fond of the SF Arts website. Though it's not comprehensive, it's fairly user friendly. However, I sometimes get frustrated at having to scroll down long columns to see what the curators recommend.

Designed by Dan Zeitman, a local web developer, the new iPhone app has a clean interface and some excellent features, though there are definitely kinks that need to be worked out:

Search: The search engine allows users to enter in keywords such as an artist name, title, genre or performance type to take them to information about a particular arts event. When I typed "Thrillpeddlers" into the search engine, I got the message "We did not find Thrillpeddlers in our event directory." I wonder whether the curated aspect of SF Arts means that some shows, companies and artists don't get picked up? Or is it simply that the search engine is not as "robust" as the press materials say it is.

Bookmarking: This feature is easy to use and convenient, allowing users to browse events and tap a button to save them in a list for later referral. Adding and deleting items is easy. And This feature also works off-line which is handy, especially in San Francisco where AT&T network coverage for the iPhone is patchy to say the least.

Social networking: The app enables people to share events via all the main social networking tools such as Facebook, Digg and Twitter. I personally am not all that interested in this feature, but I guess that many other people out there might be.

Map: Each entry includes a map so that users can figure out where an event is happening easily.

I think the SF Arts iPhone app is a welcome tool in as much as it provides information about a wide range of arts events that would take a lot more effort to find out about if you had to go to, say, the iPhone versions of The San Francisco Chronicle or other media sites where most people still go to find out about what's going on culturally in this part of the world.

However, there is definitely room for improvement. It would be great, for instance, if the SF Arts app would enable users to buy tickets directly from the iPhone and show reviews from the media of events. Also, the summaries of events don't seem to include such basic information as the phone number of the venue or the website URL. And you have to go to the map function to see the address, whereas it would be helpful to see that information on the "details" page for each event.

All i all though, it's a pretty nifty little app. I plan on using it when I'm out and about.

You can download the SF Arts Guide on iTunes at: http://itunes.apple.com/us/app/sf-arts-guide/id380603718?mt=8

P.S. I received the following update from Larry Larson, chief architect of the SFArts website and its database. Larry kindly gave me permission to publish his response to my blog entry:

"Thanks for your kind words about SFArts and the time and attention you have given our first iPhone app. Kary wanted to make sure I responded to your thoughts as soon as possible.

I am the chief architect of the website and its database. Dan Zeitman and I undertook the exercise of creating an iPhone conception of the site, and Dan did all of the iPhone specific coding. What was to be a quick 6 week job turned into a 7 month odyssey for all involved.

First, we know the app is not perfect. We have just submitted to Apple a revised version today, and some of the concerns you raise are directly addressed in that free (of course) update. Other concerns are high priority items."