Santa Cruz Roundup
August 9, 2010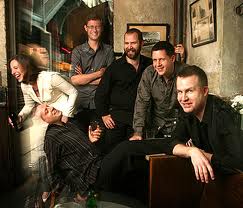 Spent just over 24 hours in Santa Cruz this past weekend. Caught the opening night concert of the Cabrillo Festival of Contemporary Music and a matinee performance of Shakespeare's Love's Labor's Lost at Shakespeare Santa Cruz.

I enjoyed the concert immensely. The house was packed and there was a pleasing variety in the programming. The first work, Mark-Anthony Turnage's Scherzoid, lurched and lollopped along like Mediaeval country faire music. The orchestra tackled the rhythmic challenges of the piece very well. The second work, Jennifer Higdon's On a Wire for orchestra and solo chamber ensemble was my favorite of the evening, not just musically, but visually too. The piece featured the brilliant sextet Eighth Blackbird (pictured) and careened between slow, spacious passages to jaunty, angular sections. The sight and sound of all the members of Eighth Blackbird clustered around a grand piano, each "bowing" strings inside the instrument by wrapping a piece of cord around a string and pulling it with two hands up and down to make a mournful sound a bit like whale-song was one of the most arresting experiences of my concert-going career to date. I suppose that it's from this activity -- those six birds on wires -- that the piece gets its title. The final offering of the evening, the world premiere of Michael Hersch's Symphony No. 3, was as intense and strung-out a work for orchestra as its possible to write. By his own admission, the composer was going through some personal issues during the writing process. The piece is relentlessly heady and extremely dark. I definitely felt the composer's pain.

Love's Labors Lost, which I caught on Saturday afternoon at the Festival Glen up on the University of California Santa Cruz campus, isn't a great play by any stretch of the imagination. But it can be fun and meaningful if done right as it poses some interesting questions about the dangerous and untenable nature of absolute behaviors and the inadequacy of language to convey our deepest feelings. The trouble with so many productions I've seen is that they tend to be overwrought. Scott Wentworth's take for Shakespeare Santa Cruz is no exception. The actors ham everything up. Some of the effects of this are funny. But most of the time, they're easy choices that quickly become wearing. One example is Corey Jones as the constable Dull. The part is small, but Jones plays his character like he's the lead. (Jones is essaying the title character in Othello too this season, and perhaps the largess of that role makes it hard for him to embrace the concept of playing a secondary character in Love's Labors Lost.) Jones' Dull is equipped with a goofy policeman's outfit and a lisp. Almost every move he makes on stage seems gimmicky, such as when he salutes and knocks off his cycle helmet.

I would quickly like to mention three other highlights of my trip to Santa Cruz. The first is the wine and cheese plate at 515 Kitchen and Cocktails, hands down my favorite evening eating and drinking spot in town. The second is brunch at Zachary's -- unbeatable value, sweet wait staff and excellent eggs. Finally, thank the celestial orbs for Rob Brezsny's "Free Will Astrology" column which the writer syndicates to the town's free weekly alt newspaper. Brezsny's stars are not like any others I've read before. It doesn't matter whether you believe that the alignment of the planets affects your ability to function or not. For Brezsny's horoscopes are great common sense and full of humor. He's also got a quirky, intellectual slant to him, and manages to make you think about the world of ideas while you're reading about what's in store for your life. His references effortlessly range between Greek philosophy and pop culture. I leave you with this week's Leo:

For a special episode of her TV talk show, Oprah Winfrey wanted a stage set that was fabricated out of chocolate. It took workers 1,400 hours to construct it. When the day came to unveil the decadent monument, Oprah offered her audience members the chance to tear it apart, eat it, and take it home as plunder. They dismantled it in half an hour. Let this be a cautionary tale, Leo. I dearly hope that the creation you're beginning to work on will endure for a long time and continue to provide meaning and pleasure far past the time it makes its initial splash. Build your baby to last.