The Unsung Heroes of Opera
July 28, 2010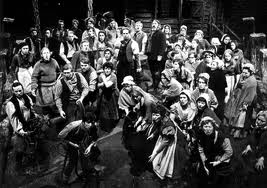 It's true that opera choruses can sometimes be godawful - a ramshackle group of amateurs in ill-fitting costumes marauding around the stage attempting to upstage the principles and regularly missing cues.

But in many cases, they really are the unsung heroes of opera productions and should get greater recognition. Here's why:

1. They spend their lives sitting around back stage waiting -- sometimes for hours -- to go on for a few minutes.

2. They work very hard for relatively little pay.

3. They don't get any of the glory.

4. Their presence on stage and singing is frequently the thing that makes a climax a climax and/or conveys the sorrow or joy of a scene because their role is often to reflect what we're feeling as audience members.

5. They have to make music out of passages that often aren't very remarkable. Great opera composers are known for their brilliant aria writing and orchestrations. They're not generally revered for the way they write for large groups of singers.