Hard Road, Easy Listening
July 9, 2010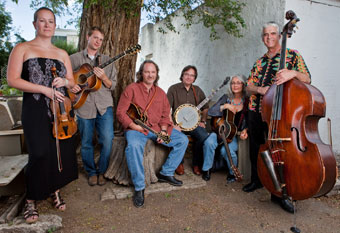 Experiencing the music of the progressive bluegrass outfit Hard Road is the equivalent of reading the poetry of Spike Milligan. Warm-hearted, yet with a mad professorly edge, the group tantalizes the eardrums with its homespun-streetwise blend of fast-strummed neo spirituals and folk songs.

Headed up by mandolin player and songwriter Steve Smith and the guitarist and singer-songwriter Chris Sanders, the ensemble was performing at the Freight & Salvage Coffee House in Berkeley last night.

The atmosphere in the auditorium (which I always find to be way too sterile for roots music) was friendly and relaxed. The crowd was enthusiastic, even though the place wasn't very full.

My only complaint: Smith and Sanders were joined on the stage by Bill Evans on the five-string banjo, bassist Bill Amatneek, and fiddler Megan Lynch. But while Evans' banjo-playing was featured quite prominently on the program, Lynch and Amatneek didn't get as much exposure. I would have liked to have heard more of these tremendously talented players.

In other news: I'm excited about the west coast premiere screening next Wednesday at the Kabuki Theatre of a new documentary film by Michael Lawrence all about the music of J. S. Bach. More information about the movie, which includes personal reflections on the great man's sound by the likes of Joshua Bell, Bobby McFerrin, Philip Glass, Béla Fleck, Chris Thile, Hilary Hahn, Zuill Bailey, Matt Haimovitz and Edgar Meyer, can be found here.