Wandering SFMOMA with a GAP-ing Mouth
June 24, 2010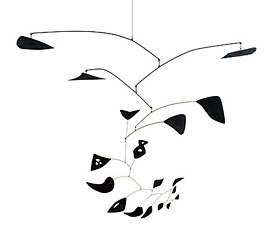 Yesterday, the San Francisco Museum of Modern Art (SFMOMA) held a press preview for its inaugural Fisher Collection exhibition -- "Calder to Warhol: Introducing the Fisher Collection" -- which opens to the public on Friday.

The exhibition is big news because it marks the start of SFMOMA's collaboration with the Fishers, the founders of the GAP clothing chain and the owners of one of the world's most enviable private contemporary art collections. In February, SFMOMA announced a partnership to house and display the collection of Gap founders Doris and Donald Fisher which includes more than 1,100 works by iconic 20th century artists. The museum is currently selecting an architect to build a new wing specially for the collection, much of which has never been seen by the public before now. In the meantime, the partnership is kicking off with the entire top two floors of the museum, including the Rooftop Garden, displaying more than 160 paintings, sculptures, photographs, and video works by Alexander Calder, Chuck Close, Anselm Kiefer, Roy Lichtenstein, Agnes Martin, Gerhard Richter, Cy Twombly, Andy Warhol, and other world-class artists.

I spent the morning wandering around the exhibition halls with my mouth aGAPe. I've seen one or two Calder mobiles hanging in galleries before, but never a roomful all in one go. And beyond a special exhibition dedicated to the works of Anselm Kiefer which I saw a few years ago, I've never seen such a variety of the artist's work all displayed next to each other in one space. The depth of the offerings as well as the breadth made my head spin.

I expect that this show will fill SFMOMA's coffers. But if I have any criticism of it, it's that there's so much iconic work on display that it feels very much like a "greatest hits" experience. With so much amazing artwork all available in one place, it's hard for individual pieces to stand out.

I think the best way to experience this enviable exhibition is to go many times and just hit one room with every visit. Otherwise I think it's very possible to experience art overload or burnout.