Slow Food Art in Chinatown
June 14, 2010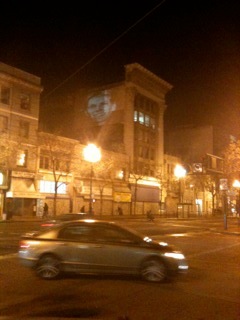 The slow food movement has become very much a part of Bay Area culture, alongside organic and local approaches to cuisine. Besides a few "No MSG" signs, Chinatown, however, has been somewhat slow to embrace the slow.

A new storefront art exhibit by the San Francisco-based visual artist Niana Liu playfully sends up the shortcomings of Chinese cuisine's traditional speediness and of the global economy's emphasis on instant gratification over quality. Located at 630 Kearny Street, the storefront, which was unveiled in a ceremony last Friday, is one of several new installations in the neighborhood and part of the city's ongoing "Art in Storefronts" initiative to get artists creating work in disused business spaces.

The storefront is brightly lit and immediately eye-catching. On one side of the door, hang rows of colorful papier-mache ducks, each with a label attached, such as "oil spill duck". On the other side of the door is a table set with plates in which plants are growing and an egg sits. The conceit is that a dish, eg chicken chow mein, will be ready when the plants have taken their time to mature and the egg has hatched and grown into a chicken. An oversized menu hanging above the table ironically reads that the "restaurant" only offers three entrees: 1. Cheap and good. (slow) 2. Cheap and fast. (crappy) and 3. Good and fast (expensive). The "special of the day", however, is "good and slow" -- "please be patient with your order" -- the menu says.

Liu is planning on using the space as her artist's studio throughout the course of the exhibition, which runs till September 18. People can communicate with her by pressing a button on a small bright pink intercom system attached to the glass on one of the storefront windows. As a further playful touch, the artist is making her "dishes" to order. The cost for having the artist produce one of her "specials of the day" starts at $20. You can also "adopt a dish" starting at $5. In return, Liu will put a sign with the adopter's name in or next to the adopted dish on display in the window, and send you a photo of the dish as well as a weekly growth report.

The installation is probably the most quirky art in storefronts exhibition I have seen anywhere around town. I love its sense of humor as well as the strength of its political message. And I also applaud the artist for her decision to actually spend time at her installation. This is very unusual. Once the storefronts are unveiled, generally speaking, the artists don't occupy the space. Deciding to stick around interact with passersby and take advantage of the free rent to get on with some work is pretty sensible. I wonder what the local restaurant community will make of Liu's work?