Die Walkure
June 21, 2010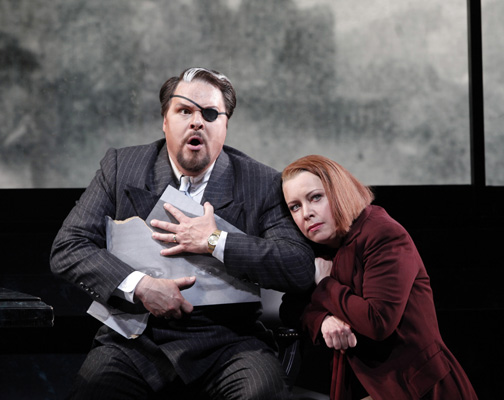 After the snoozefest that was Faust, the San Francisco Opera redeemed itself at least partially in my eyes over the weekend with its production of Die Walkure. The main reason for this was the extraordinary casting. I was utterly captivated by a great many of the performances including Christopher Ventris as a passionate yet psychologically restrained Siegmund, a rampant and brooding Raymond Aceto as Hunding, Mark Delevan's splenetic Wotan, Eva-Maria Westbroek's sincere Sieglinde and Janina Baechle as a conniving Fricka. I was especially taken with Nina Stemme's turn as the emotionally torn Brunnhilde -- the opera's general manager, David Gockley, announced at the start of the show that Stemme was suffering from some sort of virus but she went on anyway and did a remarkable job.

What kept me from being fully immersed in the production, however, was the ugly and cliche-ridden mise-en-scene. The videography, consisting of churning clouds and a fast hand-held camera-aided run through a forest, made me feel nauseous. And I'm more than a little tired of seeing Gods portrayed as business titans in skyscrapers and battle scenes taking place in dystopian wasteland-type settings complete with bruised skies, concrete, piles of trash and used truck tires.

Still, when it comes down to it, the singing and acting are the most important things and SF Opera at least got these elements right. I shudder to think how much money the company could have saved by doing away with Francesca Zambello's clunky, expensive-looking staging though.