New Jazz Center for SF
May 6, 2010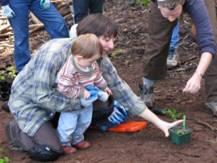 The San Francisco Jazz Festival's parent organization, SFJAZZ, is opening its first permanent home in the city in 2012. The building, which will be located in Hayes Valley near many of the city's other key arts organizations such as the SF Ballet, SF Opera and SF Symphony, is touted as "the west coast's first facility dedicated to jazz music and education" -- a sort of Lincoln Center of the west, if you will.

The 35,000 square foot building is being designed by local architect Mark Cavagnero. It will include a state-of-the-art auditorium that will accommodate up to 700 audience members, rehearsal studios, a black-box theater, digital lab and sidewalk-level restaurant/café. The SFJAZZ Center will expand its education outreach to Bay Area children and adults through new lecture series, additional rehearsal spaces and opportunities to interact with world-class artists.

The funding for the project is anchored by an anonymous gift of $20 million, one of the largest donations ever given to a jazz institution. SFJAZZ is planning to raise an additional $60 million toward construction of the building and the expansion of the SFJAZZ endowment.

The news is particularly welcome at a time when San Francisco is suffering from great economic difficulties. And as a Hayes Valley resident, I am personally thrilled about welcoming another top-tier arts organization to the area.