Bibliohead
May 5, 2010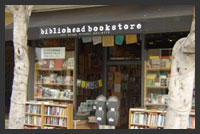 I want to give a big shout-out today to my neighborhood bookstore, Bibliohead, in Hayes Valley, San Francisco.

I feel very lucky to live around the corner from this place. The Gough Street store is like Dr. Who's time and space travel machine, the Tardis. The store is cramped and musty, with books wobbling on wooden shelves and plenty of dark corners to while away the hours in. The staff is helpful and the inventory surprisingly comprehensive. It's the kind of place where you can buy a mottled 1950s edition of the J. S. Bach partitas to play on the piano and the latest Dan Brown. Bibliohead rarely lets me down.

I cannot think of any other place as convivial to get both new and used books, sheet music and whacky greetings cards at 9pm on a Saturday evening. Long may Bibliohead thrive.