Can't Resist Those Lists
March 11, 2010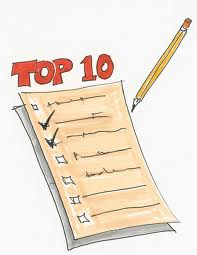 I am not a fan of those lists of "Top 50 Women Artists" or "Top 10 Young Conductors" or "The 20 Most Powerful Cultural Movers and Shakers" that pop up with alarming frequency in the media.

Having worked for magazines where I've been responsible for compiling these things, I've seen first hand what a subjective and nepotistic game the list-making can be. And, generally speaking, I don't think the people who are responsible for compiling the lists really know the entire pool of potential candidates well enough to make decisions. Plus, very often, the people doing the best work are doing it quietly. Their efforts go unnoticed because they don't necessarily draw attention to themselves. These people are amazing at what they do but don't generally make these sorts of lists because they're not big schmoozers and self-publicists.

That being said, I can't seem to resist reading those lists. Just this morning, ArtsJournal published an article from the BBC about the "inaugural list of 50 women to watch in the arts" in the UK. I think this sort of thing is dumb. And yet for some reason I felt compelled to read the article and check out the list. The question is, why do I bother?

I suppose the main reason is that I'm interested to see if there's anyone on the list whom I know personally or at least whose work I know. I'm also curious to see whether I'd agree with the compilers' decisions and whether there are any glaring omissions.

But I wish I'd boycott the lists. They're bad news.