The Outsider-Insider
February 17, 2010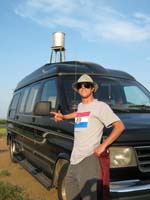 What's it like to feel like an outsider in your own country? I think a lot of people living here in the so-called "Republic of California" feel like this when they read about pro-life groups gaining headway in the mid-west or the outlawing of the teaching of the Big Bang Theory in southern schools.

Not that the Bay Area way of life, with its yuppie brunches and hipsters fretting over whether their Thanksgiving turkey went to art school before it was humanely put to sleep, is necessarily preferable, mind you.

It is this duality that underpins solo theater artist and writer Dan Hoyle's new show, The Real Americans, currently playing at The Marsh Theatre in San Francisco.

Put off by the hipster brunch crowd, the artist leaves the Bay Area bubble and sets off into the hinterlands in his van to find out what middle America is really like in the hopes of finding something that goes beyond the aforementioned cliches. Sadly for Hoyle -- and for his audiences -- he comes back to the Bay with his stereotypes mostly confirmed.

The show entertains us with its vivid characterizations of various hayseed and christian conservative types. But it ends up confirming typically San Franciscan liberal views about the rest of the country rather than providing any truly new insights into what it means to be a "real American" or if such a thing even exists today.

PS On the subject of national identity and belonging versus feeling like a stranger in your own land, the Akram Kahn dance company is coming to San Francisco's Yerba Buena Center for the Arts this weekend with "Bahok", the group's acclaimed 2008 work which explores similar issues to Hoyle's show. Taking its title from the Bengali word "carrier", the piece mixes Chinese folk dance and Kathak influences with western contemporary and classical ballet techniques. It might be interesting to compare and contrast Hoyle's and Kahn's approaches to the subject of patrimony.