VoiceBox Launches Tonight!
January 1, 2010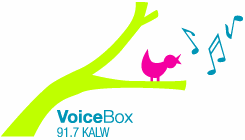 Calling all lovers of vocal music!

VoiceBox, a new public radio series which I am producing and hosting on behalf of NPR-affiliated station KALW 91.7 FM, is launching tonight!

VoiceBox kicks off on KALW 91.7 FM San Francisco at 10pm Pacific Time with a show entitled "why we sing." The first official program in the new series all about exploring the art of song, "why we sing" examines the basic impulses underpinning human beings' apparent yen for bursting into song and features a very eclectic playlist including tracks by duetting gibbons, Inuit throat singers, the San Francisco Gay Men's Chorus, Sting, Anonymous 4 and many others. There's even a montage of Bay Area people singing in the shower which is absolutely not to be missed.

If you'd like to listen, please tune in tonight at 10pm PST via the dial or via live webstream at www.kalw.org. I also plan to have the recording of the show on the VoiceBox website before too long, so if you miss it tonight, you'll be able to catch it there. Short podcasts packed with news and music excerpts will also be coming soon to further enrich your VoiceBox listening experience.

In other, but not unrelated news: I am soliciting input for the January 15 show, which is all about community choirs. (January 8 is devoted to exploring the voice of the one and only Ella Fitzgerald with a special guest, jazz and blues vocalist Kim Nalley.) If you sing in -- or know of -- fabulous community (ie non-professional) vocal ensembles both in the Bay Area and elsewhere including abroad, please get in touch. Even better: please email me a couple of tracks of the group(s) for possible inclusion on the playlist for the show. I would need to receive all recordings by the end of the week - ie Friday Jan 8.

Finally, I am looking for editorial support to help take the VoiceBox website to the next level. If you know of any vocal music-savvy person with strong writing and editing skills who fancies donating a couple of hours of their week to a good and fun cause, please point them in my direction.