Glickman Winner Announced
January 29, 2010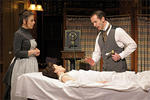 The winner of the 2009 Will Glickman Award for best play to have had its world premiere in the Bay Area is playwright Sarah Ruhl for In the Next Room (or the vibrator play). The work premiered last February at Berkeley Repertory Theatre in a production directed by Les Waters and then transferred to New York.

It's always such a privilege being part of the panel of local theatre critics that selects the winner of the prize each year. I am absolutely thrilled about our decision, though there was some tough competition from such contenders as Charlie Varon for Rabbi Sam and Ann Randolph for Loveland (both of which premiered at The Marsh.)

The Vibrator Play was one of the theatrical highlights of 2009 for me for its combination of brashness and delicacy, its exploration of the pros and cons of so-called "technological advancement" and its playful-soulful take on human sexuality.

The Will Glickman Award has been given annually since 1984. Created to honor playwright and screenwriter Will Glickman, the goal of the award is to encourage new plays and their production as invaluable investments in American theatre. Theatre Bay Area, the nation's largest regional theatre service organization, has administered the award since 2004.

Berkeley Rep debuted three previous winners: Hurricane / Mauvais Temps by Anne Galjour; The People's Temple by Leigh Fondakowski with Greg Pierotti, Stephen Wangh, and Margo Hall; and Yankee Dawg You Die by Philip Kan Gotanda. Other playwrights who have been honored include Liz Duffy Adams, Adam Bock, John Fisher, Brian Freeman, Doug Holsclaw, Dan Hoyle, Denis Johnson, Cherrie Moraga, Brighde Mullins, Peter Sinn Nachtrieb, Octavio Solis, Charlie Varon, and Erin Cressida Wilson.

The selection committee for this year's award included the following journalists: Robert Avila, SF Bay Guardian; Karen D'Souza, San Jose Mercury News; Robert Hurwitt, San Francisco Chronicle; Sam Hurwitt, Marin Independent Journal; and yours truly.

Here is my review of the play from SF Weekly.