When A Theatrical Mashup Works
December 22, 2009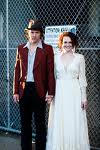 How do you make a work as well-known and didactic as The Threepenny Opera feel fresh? The piece is so often performed and makes such a strong and obvious statement about societal corruption, that any production of the three-hour-plus-long Weill-Brecht magnum opus is bound to fall short of surprises, even if the songs are a hell of a lot of fun to listen to and sing.

Shotgun Players' current production of the musical play, directed by Susannah Martin, manages to make a virtue out of the heavy-handedness of the material through the energy of the cast, the unusual characterizations of some of the actors, and the strangely compelling mashup of different cultural idioms and styles.

The grungy, punk-underworld setting isn't particularly original. But it is greatly enlivened by the unconventional approach that some of the actors take to their characters. Kelsey Venter's Polly isn't a flighty, naive debutante; she's canny, self-aware and tough. As the prostitute Jenny, Beth Wilmurt is the calm in the eye of the storm. While all the other characters are losing their heads around her, this Jenny is quietly proud, self-assured and, above all, pragmatic. Wilmurt's and Venter's takes on their characters change the way we feel about Macheath -- as charismatic as is Jeff Wood's kid glove-wearing miscreant, he no longer calls all the shots. This considerably increases the dramatic - and sexual - tension of the story.

What I also enjoyed about this production was the wonderful clash of cultures. Weill and Brecht conceived the work in 1920s Germany, basing it on an 18th century ballad play, The Beggars Opera, set in London by John Gay; The Threepenny Opera is set in Victorian-era London; Shotgun transforms the setting to the 1960s -- there's a Sex Pistols / Malcolm MacLaren meets Vivienne Westwood vibe to the work. The lively adaptation -- provided by UK dramatist-directors Jeremy Sams (lyrics) and Robert MacDonald (book) -- is full of contemporary British idioms and references. Words like "shag" and "bollocks" abound, and I even caught a reference to the 1980s British ice-skating duo, Torville and Dean, which I imagine must be lost on many US theatregoers. It's a matter of great delight to me that the actors still approach the work in a very American way -- they speak with their regular accents, letting the Englishisms trip off their tongues as if they were born into a culture which routinely uses the word "bugger" rather than "dang."

I imagine that this slapped-together-feeling blend must strike some audience members and critics as messy and bizarre. But I found the culture clash compelling. The tensions between the acting, text and setting made me sit up and listen more carefully. I wasn't bored for a moment. Weill and Brecht came to life.