Cello As Percussion
November 25, 2009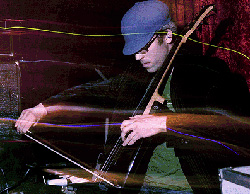 Cellos generally used to be found in orchestras and chamber music groups. But these days, the instrument seems to be appearing increasingly in other musical settings. And what's really interesting about the advent of the cello on the bluegrass, electronica, folk and rock scenes is that the instrument is being played like it's part of the percussion / rhythm section rather than the string section.

At Berkeley's Freight & Salvage Coffee House folk club a few nights ago, I caught a gig by the brilliant alt-bluegrass band Crooked Still. The cellist for this ensemble, Tristan Clarridge, flicks his wrist near the bridge of his instrument and digs in with his bow to make a hard-edged sound that's rhythm-guitar-like and drives the pulse for the group. Clarridge plays his cello conventionally (ie with the instrument sitting between his legs). But the group's former cellist, Rushad Eggleston, played standing up, with his cello strapped around his shoulders like an enormous guitar.

Folk cellist Natalie Haas (who is best known for playing in a Celtic duo with fiddler Alasdair Fraser) plays her cello in a similar way to Clarridge. The music is of a different style, but the cello once again provides the kinetic-percussive drive of the sound.

In the world of electronica, Sam bass, cellist with Loop!Station, uses loop pedals, alongside vocalist Robin Coomer, to create a densely-structured soundscape. Cellist Alex Kelly, (pictured) who performs in a wide range of formats from alt rock concerts to hip-hop theatre pieces to circus performances, also uses technology like loop pedals to extend the creative capacity of his instrument.

Audiences are clearly amped about the ways in which these cellists are playing their instruments. Clarridge is perhaps the biggest draw in Crooked Still -- I was told by several people before and during the concert that he was the one to watch on stage. And one person I met was upset not to be sitting close enough to the Clarridge in order to be able to eyeball his technique properly. At a recent Mark Growden Sextet gig, in which Kelly plays, the cellist got a huge ovation.

It's exciting to see so many musicians exploring the possibilities for this instrument. Perhaps we'll start seeing more oboes and French horns being played in unusual contexts and ways soon too.