Catching Some ZZZZZs with Euripides
October 7, 2009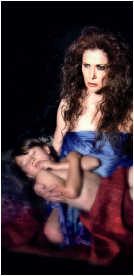 Never before have I been in a theatre with so many sleeping people.

I think I dozed off for about ten minutes or so in the middle of UCLA Live's production of Medea starring Annette Bening as Euripides' vengeful mother and wife. When I woke up to the sound of the black-rubber-suit-and-red-bustier-clad female chorus letting out a blood-curdling ululation, I noticed that my guest, the man sitting next to her, and the two people behind him were all out stone cold. To my right, the couple looked like they'd just been startled awake like me. Five minutes later, I overheard two people sitting in the row behind me a little to my left say to each other: "Should we wake Robert up?" After the play, my friend mentioned that one of the musicians on stage looked like she was in a stupor.

And here's the kicker: The show is only an hour and 15 minutes long.